East York Strategy is modelled after a successful program in North Etobicoke, called Etobicoke Strategy, which in turn was modelled after the Boston Strategy http://www.sasnet.com/bostonstrategy/default.html
In January, 2006, Pastor Jim Parker of Bethany Baptist Church, East York, heard Pastor Walter McIntyre of Etobicoke speak about what churches and community were doing in their neighbourhood.  Pastor Jim caught the vision of what we — the churches and community of East York — could do together.  Staff inspector Daniel Hayes and Police from 54 Division have been very supportive of this faith based, police and community supported program.
With the support of local businesses, schools and politicians East York strategy has offered programs for youth which allow the youth to connect with the leaders in their community.
Since the first 32 middle school boys joined a basketball league in 2007 East York Strategy has connected with over 1 000 youth through sports, drama, summer camps, and day trips.  Our churches have worked together in community events including outdoor worship services and graffiti removal days.  Many of the early youth participants have stayed with the organization and now serve as leaders and volunteers in our community.
East York Strategy Circle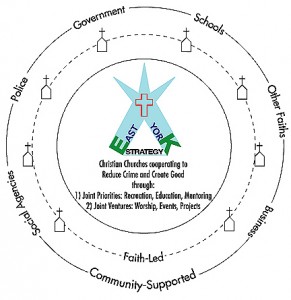 East York Strategy has many possibilities depending on the will, abilities, and wisdom of the people involved.